LED Horticultural Lighting: A Booming Business
Views:119 Author:Site Editor Publish Time: 2017-09-27 Origin:Site
The horticultural grow light market presents a lucrative opportunity for LED lighting manufacturers. LEDinside expects the global LED horticultural lighting market to grow from (US) $576 million in 2016 to around (US) $1.42 billion by 2020.
"Light Polymers' chemistry enables low-cost LED down-conversion and a different way to make grow lights," said Marc McConnaughey. "All current LED manufacturing methods still fall short in their ability to make and deliver precise spectra on-demand, with short production lead times. Our grow lights are for vertical farmers who are looking to optimize their farms for maximum efficiency and PPFD while decreasing energy costs for both lighting and air conditioning. We can offer any precise growth spectrum on demand by using our down-conversion technology and simple, low-cost blue LEDs."
Light Polymers will soon introduce the GrowBlade™ family of flat-panel down-conversion grow lights in four sizes, 300x300mm, 300x600mm, 300x1200mm, and 300x1500mm. GrowBlades are designed for indoor farmers who need fixed spectrum combined with low capital and operating costs. The high efficiency of these lights ensures cool operation. Combined with the evenly diffused light from the Crystallin film and a thin 3cm form factor, GrowBlades allow more growing levels in the same footprint, increasing productivity for vertical farming operations. The wide-area diffused light also combines with specially designed Crystallin Grow film spectra for improved light quality and crop yields. Early field tests are demonstrating that a single GrowBlade can replace 2 to 3 bars of multiple-color encapsulated LEDs.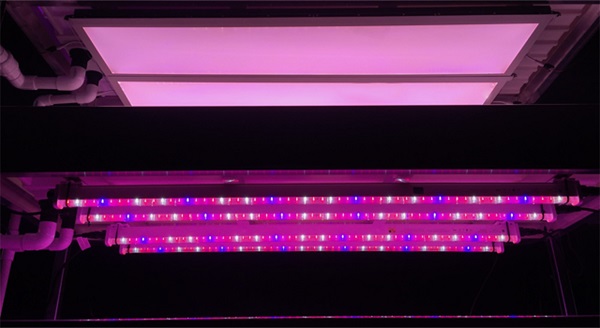 Light Polymers field-test GrowBlade lights (top) versus bar-type grow lights using multiple single-frequency LED emitters. (Light Polymers/ LEDinside)
The continued international legalization of both medical and recreational marijuana is also expected to spur global LED grow light demand. Light Polymers aims to capitalize on this niche lighting market with groundbreaking grow light with unique top and side lighting that maximizes the flower growth.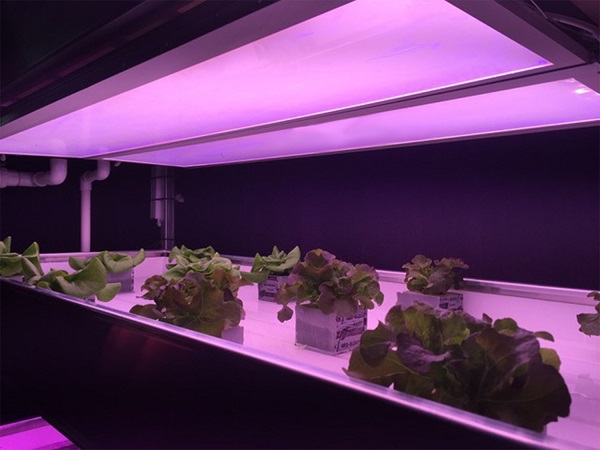 GrowBlade lights with Crystallin Grow film for vertical farming. (Light Polymers/ LEDinside)