According to the latest report from LEDinside, a division of the market research firm TrendForce, 2017-2021 LED Industry Demand and Supply Data Base- 3Q17, LED market value in 2017 is projected to increase by +7.4 %YoY to USD 17.16 billion, in the light of 2017's trends that the LED market price stayed stable and that the automotive lighting and architectural lighting field are enlarging fast.
LEDinside analyzed top 10 LED demand and supply market trends in 2018, including IT display market, general lighting market trend, architectural and landscape lighting market trend, automotive LED market trend, display market trend, infrared LED market trend, UV LED market trend and LED supply market analysis.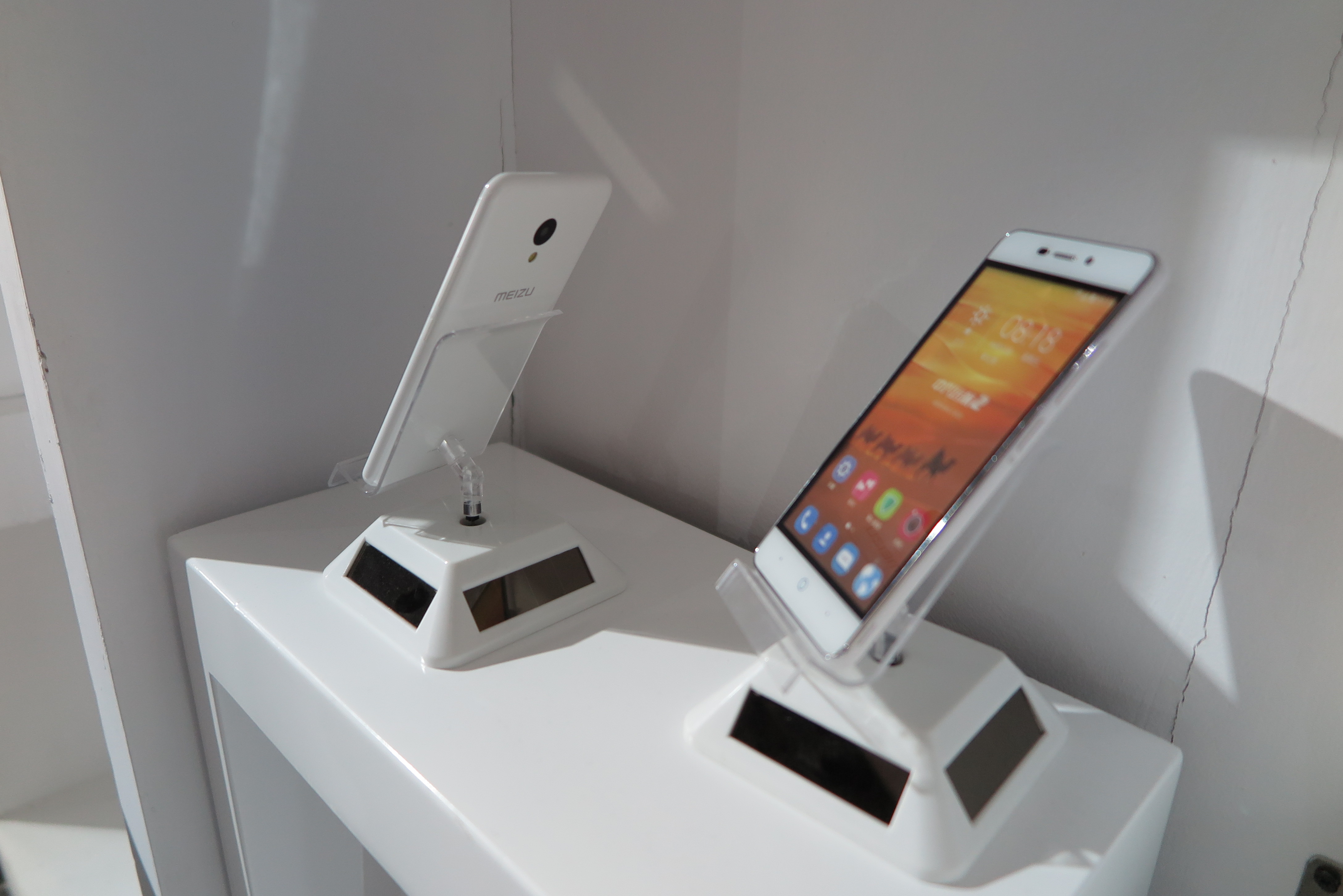 (Image: LEDinside)
Trend I: Mobile Market- Mini LED Backlight Products Have the Chance to Be Introduced into Mobile Phone Backlight Application in 2018
The recent supply of AMOLED panel is tight. Except Samsung and Apple, other Android manufacturers may face the hardship of the lacking of OLED panel. Therefore, to make the products stand out, other manufacturers will combine Mini LED with flexible substrate to achieve high curved backlight. Related products of Mini LED backlight applications are expected to be released in 2018.
Trend II: TV Market- WCG and QD (Quantum Dot) are the Technology Directions to Make Differentiation for TV Manufacturers
In response to wide color gamut (WCG) solutions, TV manufacturers emphasize HDR and have the demand for WCG at the same time, and with the approach of WCG on HDR market, the percentage of wide color gamut in 2018 will have the chance to increase. For HDR, the basic demand is about NTSC 85%, and it may become higher in the future. This will cause NTSC 85% solution's usage of B LED +R (KSF) G(Phosphor), B LED+R (Nitride) G (Phosphor) and BG LED +R(KSF) increase. On NTSC ≧100% project, now except QDEF, Korean manufacturers have developed QD In Open Cell. Due to QD's material, it only needs blue light LED chip, and no longer requires traditional phosphor powders. Therefore, in the future, the phosphor usage volume will decrease as the QD in Open cell increases.
Trend III: General Lighting Market- The Time it Takes to Make the Market Become Saturated for Potential LED Lamp Installation is 10 Years.
The potential LED lighting installation around the world is about 60-70 billion. The period of growth for LED lighting industry is in 2012 to 2016. LED lighting industry has finished the installation of 11.872 billion LED lighting products all over the world. Similar plans of global lighting challenge receive wide responses from lighting industries. It is expected that before 2020, there will be 6-7 billion LED lighting being used per year. It will realize the goal of reducing energy consumption and greenhouse gas emissions.
Trend IV: Architectural and Landscape Lighting Market- Evening Economy Boosts Architectural and Landscape Lighting Market
Viewing from the demand, all cities put a lot of efforts in increasing the ranks and constructing travel attractions. Especially in China that every cities spend lots of money creating evening economy. With the combination of dynamic image control technology with LED screen, they create cultural experience by the form of light and music shows at riverside, coast, lakeside and city square. There are 300 prefectural-level cities and 2,800 county-level cities in China. If only 5% of the cities promote lighting engineering per year, it can bring the demand of architectural and landscape lighting market worth billions of US dollars.
Trend V: Automotive Lighting- Fast-Growing China Represents the Largest Automotive Market Opportunities Worldwide
China is currently the largest automobile market in the world, and the total passenger vehicle sales in the country for 2018 are forecast to grow by 7.14% annually to reach 25.5 million cars. China's demand growth is supported by several factors. First, the country's second and third-tier cities are seeing new economic developments and growths. Second, the expansion and upgrading of the country's transportation infrastructure encourage vehicle growth as well as the replacement of traditional two- and three-wheelers by four-wheeled automobiles. The vehicle per capita in China has gone up from a low of 100 and is on a gradual path to catch up to the per capita figures of the developed countries (ranging from 500 to 800). The third major factor that drives the Chinese car market is the various government policies that support the development of domestic vehicle brands.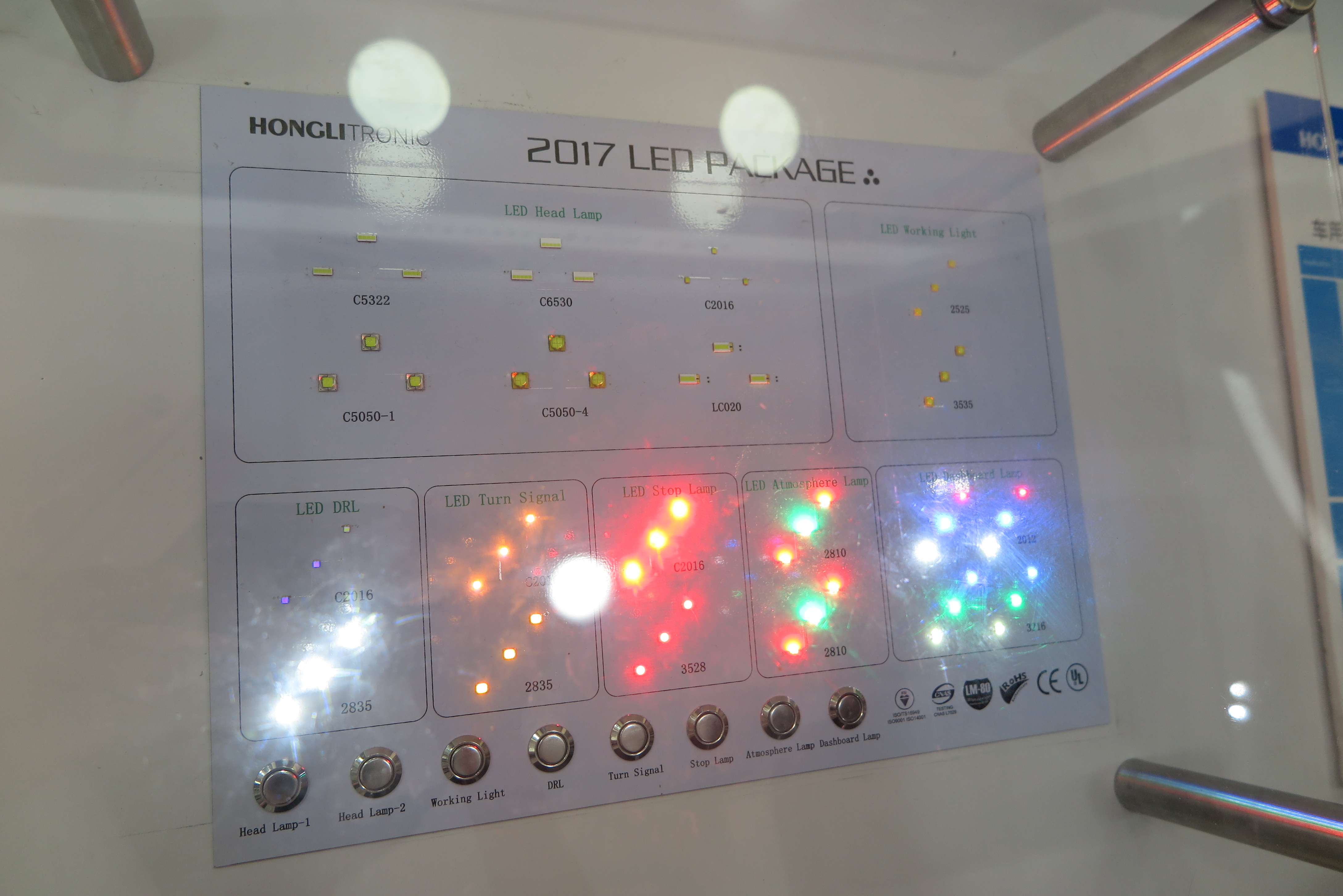 (Image: LEDinside)
Trend VI: Automotive Market- LED Usage Volume for Automotive Panels is On the Rise
Automobile design is adopting newer display technologies, and automotive panels are being used in dashboards, CIDs and entertainment displays. The configuration of the automotive panels on dashboards have transitioned from 3.5- to 10-inch panels (stitching type) to one integrated display sized 10.3 to 12.5 inches. The size and format of panels for CIDs have also changed. Initially, a CID consists of a 6- to 9-inch panels showing basic controls. Now, a CID can be a large panel sized 10.1 to 17 inches and designed for showing the operational details of the entire vehicle. Similarly, the development entertainment displays have transitioned from 7- to 9-inch panels for embedded displays to larger panels sized 10.3 to 11.4 inches for non-embedded displays. In addition to the increase in size, some basic specification requirements that automotive panels must have include wide viewing angle and high brightness. Other design-related needs that have also emerged such as curved and irregularly shaped panel structures. Because of the above-mentioned trends, the total global LED market value in automotive panels is projected to increase sharply from USD 67 million in 2016 to USD 173 million in 2021, with the CAGR during this period at 21%.
Trend VII: Digital Display Market- Mini LED Becomes the Focus among Digital Display and Challenges Medium-Density Retina Display Technology
Although Micro LED is popular, the challenges that mass transfer bring are hard to overcome in the short term. It takes time to industrialize. For digital display industry, high-density retina display technology is the threat to current market, however, it brings new opportunity with the market development through display technology and brand channel as well. Therefore, Mini LED, the technology between fine pitch LED and Micro LED, becomes popular among digital display companies. With COB packaging, it is possible to make the pitch below P0.7 for digital display.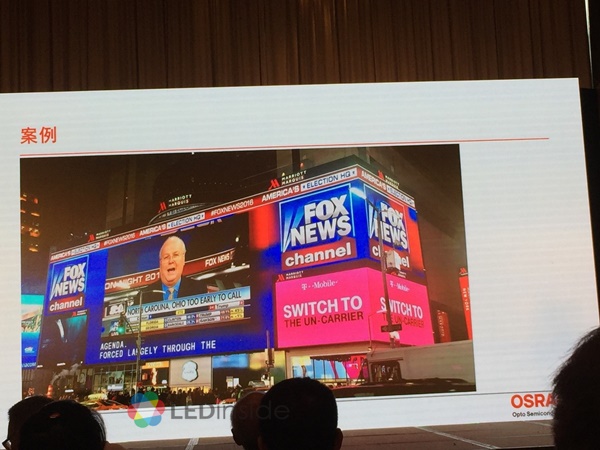 (Image: LEDinside)
Trend VIII: Infrared LED Market- IR LED Market Value Will Grow at CAGR of 15% in 2016-2021
Because some Chinese manufacturers take part in the infrared LED chip market, some mainstream Infrared LED prices decrease rapidly. However, with the release of various new applications, such as industrial surveillance security, virtual reality, and facial and iris recognition, infrared LED market value continues to grow. LEDinside expects that infrared LED market (exclude optical sensors market) in 2017 is about USD 441 million. In 2021, it is expected to increase at USD 699 million.
Trend IX: UV-C LED Price Driver Market Scale
Prices of UV-C LEDs can vary widely on account of wavelength specification, product quality, lifespan and order volume. Besides great differences in quotation, this year's UV-C LED market is also influenced by the introduction of new materials and more efficient chip manufacturing technologies. By adopting flip-chip and vertical-chip solutions, UV-C LEDs can work with high-power drivers to achieve greater levels of brightness. Unlike UV-A LEDs that target the curing application, UV-C LEDs are targeting the market for consumer lighting products. UV-C LED suppliers such as LG Innotek, Seoul Viosys and Bioraytron are currently expanding the consumer market with affordable products. As these suppliers price their offerings aggressively, they also make it difficult for new market entrants to develop and promote their UV-C products.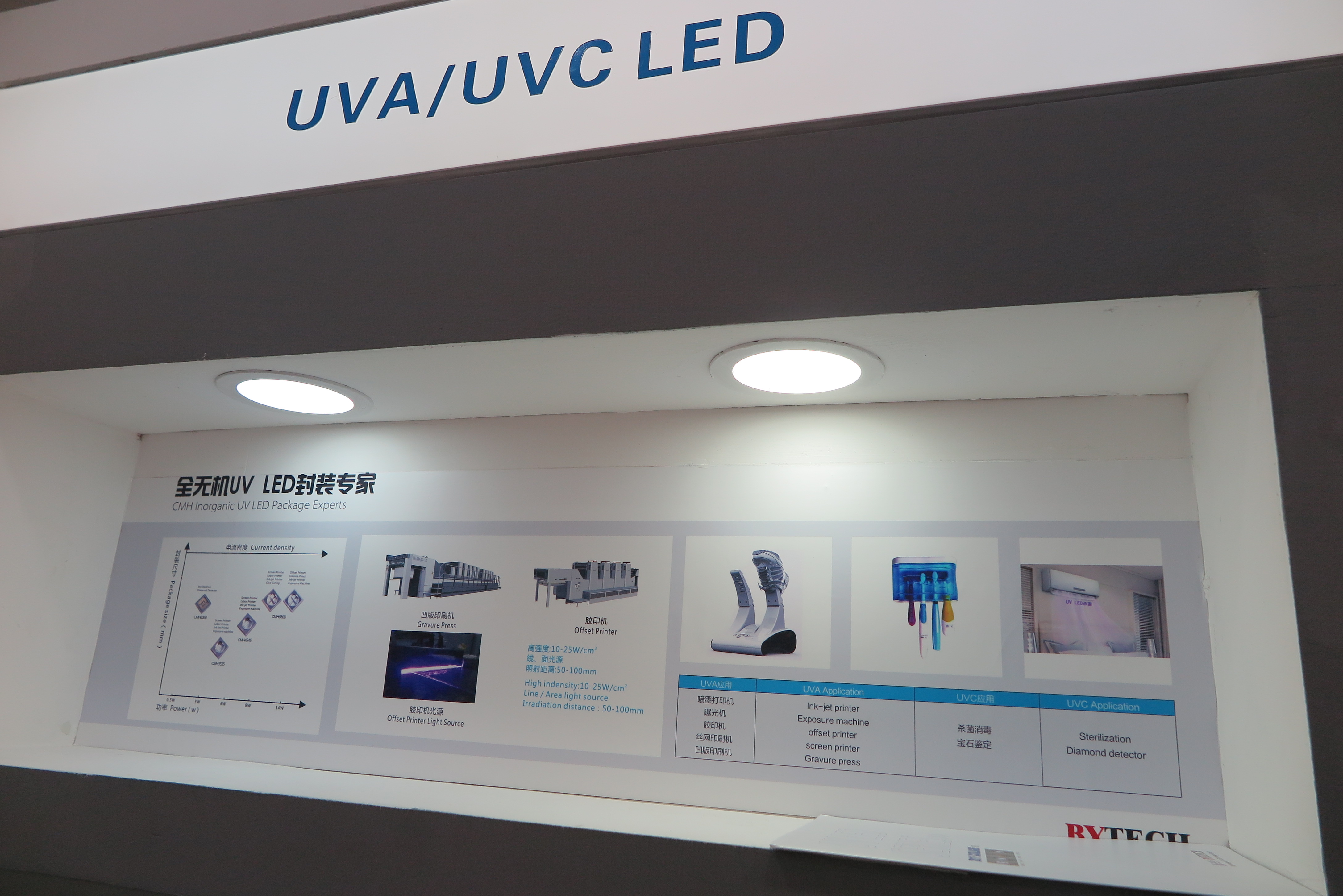 (Image: LEDinside)
Trend X: LED Chip Market Reboot the Expansion Plan
There is a new peak of expansion for LED chip industry in 2017. Because the current prices of LED chip are low, also, the tier-one LED chip manufacturers in China have the advantages in cost, the orders focus on Chinese LED manufacturers. Under the condition of full capacity, the tier-one LED chip manufacturers in China start to reboot the expansion plan. LEDinside predicts that the number of new equipment in 2017 will reach 401 sets (Equiv. K465i). It becomes the peak period for expanding capacity in recent years.
LEDinside Gold Member Report

LED Supply Chain - Backlight / Lighting / Automotive / Display / UV LED / IR LED / μLED
Major LED Package Ranking in Applications

Report NameContentFormatReleaseLED Industry Demand and Supply Data BaseDemand Market Forecast: 2016-2021 Demand Market Forecast(Backlight / Lighting / Automotive / Display / UV LED / IR LED / μLED)Excel1Q (February) / 3Q (August)Supply Market Analysis: 1. Chip market revenue (external sales, total sales)2. WW new MOCVD chamber installation volume / WW accumulated MOCVD chamber installation / WW new and accumulated MOCVD by K465i3. Epi wafer market demand (total / by size)LED Chip Market Analysis:Top 10 Chip vendors' MOCVD installation, wafer capacity, and revenueLED Package Market Analysis:LED package vendors' revenue and LED revenueTop 10 LED package revenues in backlight, lighting, COB, automotive, and displayLED Industry Price SurveyPrice Survey - Sapphire / Chip / LED Package / BulbExcel1Q (February) / 2Q (May) / 3Q (August) / 4Q (November)LED Market Demand and Supply AnalysisDemand MarketPDF2Q (May) / 4Q (November)BacklightGeneral LightingAutomotiveDisplayInfrared LED Market (2Q) / UV LED Market (4Q)μLED (4Q)Supply MarketMOCVD MarketWafer and Chip Market, URTSupply and Demand Sufficiency Analysis